Oh Mary Kate...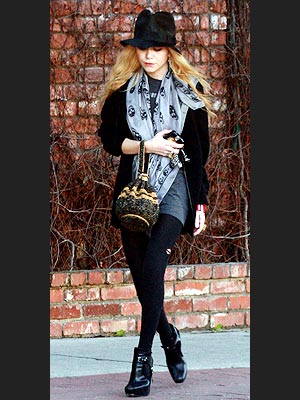 Mary Kate is at it again. Yup, you guessed it, looking homeless. With the New Year coming up, I tried to just ignore this photo and concentrate on good, fashionable, non-homeless looking celebrities... but alas. This picture kept haunting me... ripped jeans is one thing, but ripped leggings? Try again. Maybe they have some at goodwill, because it pretty much looks like that's where you shop, dear. Her bag, her scarf, the fedora, OH MY! Does she not look like she's going to a) buy drugs or b) sort through trash cans?
Ashley was probably pretty pumped when MK started dressing homelessly - it certainly set them apart. But after awhile, I have to wonder why she doesn't just shake her (not too hard though, you know she's fragile), explain to her how much money they have, and take her shopping for real clothes.
This kind of makes me long for the days of Full House and such. You know that Danny Tanner would never have let little Michelle leave the house looking like this.
source